---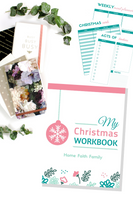 Perfect to Organize the Holiday Hubub
The Holidays are SO busy and this planner is PERFECT to organize your holiday hubbub. Providing so much material to make your holidays easier and stress free! Micah's thought of everything! Party lists, gift lists (and tags!), card lists, sheets for service projects, meal planning, and pages for notes making sure you don't forget anything! Definitely worth the small investment to keep the holidays a little more stress free! (:
Thank you for your kind words, Bailey. I am so excited you love this planner. Merry Christmas.
My Christmas Workbook
I love this Christmas Workbook/Planner! It has Everything you need to keep you sane and organized this holiday season! From menu planner, gift list which I love with 9 children and 8 grandchildren sometimes it is hard keeping track! What I love,love is the Acts of Kindness section. So great to do with the family and for others! This is a 2nd brain for the next couple months something I need during this season! Writing things down on paper helps me to remember things more. Everything I needed. A great resource !
Denise, thank you so much for your kind words. I'm so happy that you and your family will be blessed by using this workbook. Merry Christmas, friend.
My Christmas Workbook
Wonderful help for the holidays!